Transport information at Matiatia wharf
Transport info Matiatia wharf terminal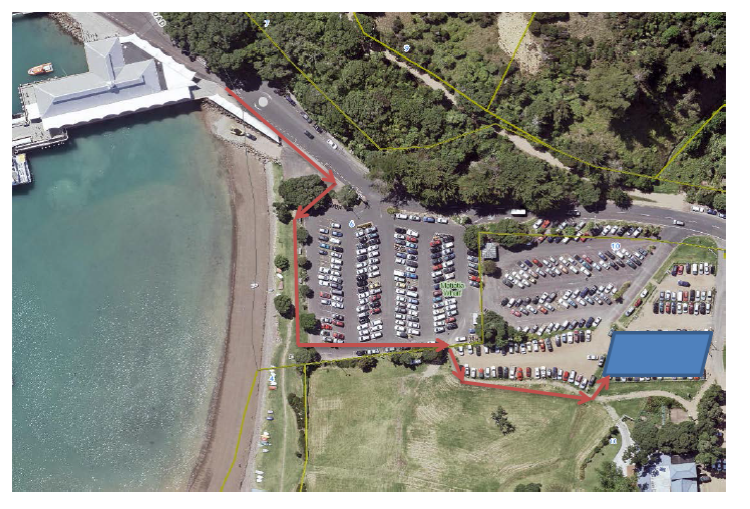 Quick read;
AT scheduled metro bus service - directly outside terminal main doors
Taxis & small passenger service vehicles un-booked - directly outside terminal doors, across the road
Pre-booked tours & transport - follow the signs to the Harbormasters area, South East, beyond sealed car-parks
Fullers Explorer Tour buses - follow the signs to the Harbormasters area, South East, beyond sealed car-parks
The detail;
Due to the congestion in the car-park, the Waiheke Local Board passed a resolution in Oct 2018 to request Auckland Transport to allocate the space in the keyhole for Auckland Transport Metro Buses and Small Passenger Service Vehicles (which are available for hire) only. 
Auckland Transport has made provision for pre-booked passenger service vehicles and private hire vehicles in a new carpark adjacent to the old Harbourmasters Building.
This was made notified and made available on an optional basis from Jan 4th, 2018.
The carpark will now be formally trialled from Thursday Feb 1st to Wednesday April 4th, 2018.
All pre-booked and private vehicles must use the new carpark during this period. Feedback about the trial will be requested from Transport Operators after the trial has finished. 
The car-park is one way, so if you are driving from the keyhole, turn right into the main back car-park and enter the car-park on the south-side of the car-park.
A temporary bus shelter will be erected adjacent to the area earmarked for buses. 
Please exit on the north-side. This route provides better visibility when turning right into Ocean View Rd.
Matiatia Ferry Terminal Waiheke Island